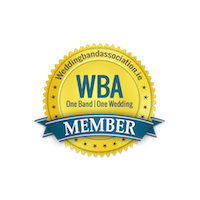 We are delighted to be a certified member of The Wedding Band Association. This website provides questions that all couples should ask when in search of a Wedding Band in Ireland. The site also provides an extensive list of wedding bands that offer a strict code of conduct.
WBA members guarantee:
1. If you book a band that is a member of WBA, you are guaranteed that the band will not be performing at multiple weddings on the same date as yours. (yes, this is currently happening)
2. The band that you book are the band that will turn up on the night of your wedding, not a bunch of musicians that never met before.
The WBA does note that a musician can get sick and in this case a replacement will be provided, this is something that can happen, but not pre-meditated, thats the key difference.
Finally, we encourage all couples in search of the perfect wedding band to do your research. There are some amazing Wedding Bands in Ireland and most couples are spoilt for choice. Go to the bands showcase, check out their online videos, read online reviews, ask friends and family have they heard of the bands you are interested in.
Pink Champagne Wedding Band work intensely hard to maintain a great quality of service, we have had the same core band members for over ten years, which means the band are well rehearsed, great friends and most importantly know how to fill a dance floor | "We fill Dance floors" |
So to recap: We really encourage you to ask the questions:
Will this be the exact band that i get on the night of my wedding?
If the answer is no, then i guess you need to make the decision on whether you want to take the gamble of a band turning up at your wedding that you never heard before! Thats the reality.
Remember: 'Great food and a Great Wedding Band make a Great Wedding"
For more information on Pink Champagne Wedding Band please visit our website www.pinkchampagne.ie